DETAIL
【Popular Girls' Association Course】 10 Cuisine Cuisine 50 kinds of drinks all you can drink ⇒ 3 hours 3480 yen (tax included!) 3 hours from Sunday to Thursday!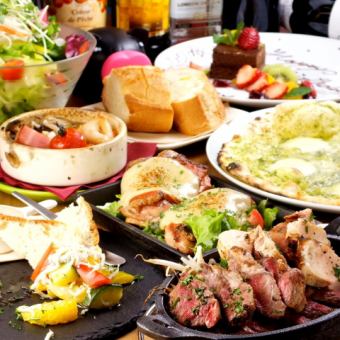 By using a coupon3480 yen
★ Sunday to Thursday only 3 hours ★ Fridays, Saturdays, Holidays ▶ The day before the holiday will be a two-hour system.
All-you-can-drink available

【All-you-can-drink alcohol】 3-hour system only for girls' association course ♪ (Sunday to Thursday only)
Reservation deadline

Visit of hope the day before 15 o'clock
Luxury girls' association for adults is here ♪ Assortment of 5 different types of appetizers is one dish per person.Cheers with adult Peachy cocktail ♪ It is a nice benefit that you can choose 2 pizzas and 2 dolce! This special course is for pre-order only.
Course menu
◇ Peachy cocktails of adults
Cheers drinks please.
◇ Assorted 5 types of appetizers ~
One person, 1 dish will be provided.
1, homemade potato salad
2, Assorted raw hamsarami
3, white lever mousse
4, Broiled mackerel - special olive oil soy sauce ~
5, pickles soup pickles
◇ salad
I make it with fresh vegetables of the day.
◇ MIX Achillo
Equipment is purring.The contents are fun.
◇ Bucket
Take it with your ahyejo.
◇ Oven baked of young chicken mozzarella cheese
It is the menu of our most recommended.
◇ Oven baked of the world's three biggest Iberian pigs
Juicy! Fat features are sweet!
◇ Pizza you can choose
Please choose your favorite pizza.
◇ 2 Dolce
I am glad for women! It is with 2 items.
* Presented at an anniversary plate of 1000 yen ★
※ If your seats are open on weekdays, it is ok to enjoy talking and meals for hours even after the course ends ★
※ With zero carry-in fee, bringing cakes and gifts is OK.Please feel free to consult us at the time of reservation ♪
All-you-can-drink menu
·beer
· If you order a draft beer, you will receive 100 yen per cup at a separate charge ♪
·sour
· Lemon Sour · Grapefruit Sour · Yuzu Mitsu Sour · Seawater Sour · Tomato Sour · Oolong High · Tamaki Hi
·Cocktail
· Jin Ricky · Gin tonic · Gimbac · Mosccommer · Screwdriver · Cassis soda · Cassis orange · Cassis grape · cassis oolong · fuzzy group · peachmoni · reggae punch · appetole soda · appellole Mooni · venice mojito · appello spiritsa · mojito · Cuba Libre
Shochu
· Iki gold (wheat), Black Kirishima (potato)
·wine
House wine red and white
·Soft drink
· Oolong tea, green tea, cola, ginger ale, orange juice, grapefruit juice, tomato juice, coffee (H · I) ice tea

Coupon that can be used
【All day use OK】 Message with dessert setting plate 1500 yen → 1000 yen! Graffiti message on the window OK!

Presentation conditions

When using the reservation ★ Fri Sat · Holidays are also OK ★

Conditions of use

Necessary reservation / other tickets / service can not be used together / 1 pair 1 time 1 ticket / food / people / over 2 people / limited to 2,500 yen or more per person

Expiration date

Until the end of March 2018

【Sunday - Thursday Limited】 ★ Advance Booking Benefits ★ All courses, all you can drink for 30 minutes!

Presentation conditions

When booking ★ advantageously by advance reservation ★

Conditions of use

No other tickets / services can be used together / over 3 people / reservation required / course only available for reservation only from Sunday to Thursday

Expiration date

Until the end of March 2018

【Full day use OK】 Plate attached with message free!

Presentation conditions

When using the reservation ★ Fri Sat · Holidays are also OK ★

Conditions of use

Necessary reservation / other tickets / service can not be used together / 1 pair 1 time 1 ticket / food / people / over 2 people / limited to 2,500 yen or more per person

Expiration date

Until the end of March 2018
2018/03/05 update