Course details
【Super Gains Girls Association Course】 5 dishes alcohol 50 drinks all you can eat ⇒ 3 hours 2980 yen (tax included)!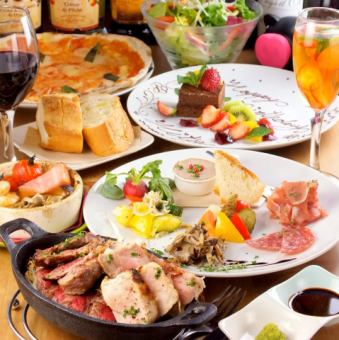 By using a coupon2980 yen
★ Sunday to Thursday only 3 hours ★ Fridays, Saturdays, Holidays ▶ The day before the holiday will be a two-hour system.
All-you-can-drink available

【All-you-can-drink alcohol】 All-you-can-drink course only 3 hour system ♪ (Sunday to Thursday only) There are plenty of preparations available + 500 yen for premium all-you-can-drink ★ Draft beer, shochu, careful wine, cocktail types gorgeous!
Reservation deadline

Visit of hope the day before 15 o'clock
Available days for reservation

Monday - Sunday - Public holidays - Holidays
Relaxing at the sofa seat ♪ ♪ Day to Thursday you can drink 2 hours and half ♪ You can choose the appetizers, salads, pizzas, steaks, dolce and the amount of cooking are just good courses for women ♪
Course menu
◇ Assorted 3 types of appetizers ~
One person, 1 dish will be provided.
1, homemade potato salad
Mustard-flavored homemade potato salad with raw ham
2, Assorted raw hamsarami
Selected raw ham and salami.With Parmigiano and EX olive oil.
3, white lever mousse
I made a loose leaf of Aomori's Sakura Princess rice firm at low temperature.
Please eat with bucket.
◇ salad
Tommy second original dressing salad.
Fresh vegetables purchased from the market with special dressing.
◇ Pizza you can choose
Please choose your favorite pizza.
Hand grip Pizza
Every day hand-packed daily laid fabrics
Please enjoy pizza baked in a pizza kettle at 500 ℃.
◇ Our specialty brand pork steak
◇ Dolce
It is handmade Dolce
* Presented at an anniversary plate of 1000 yen ★
※ If your seats are open on weekdays, it is ok to enjoy talking and meals for hours even after the course ends ★
※ With zero carry-in fee, bringing cakes and gifts is OK.Please feel free to consult us at the time of reservation ♪
All-you-can-drink menu
·beer
· If you order a draft beer, you will receive 100 yen per cup at a separate charge ♪
·sour
· Lemon Sour · Grapefruit Sour · Yuzu Mitsu Sour · Seawater Sour · Tomato Sour · Oolong High · Tamaki Hi
·Cocktail
· Jin Ricky · Gin Tonic · Screwdriver · Cassis Soda · Cassis Orange · Cassis Grape · Cassis Oolong · Fuzzy Neeben · Peach Mooni · Reggae Punch · Ape Roll Soda · Ape Roll Mooni · Ape Roll Spiritsa · Cuba Libre
·wine
· House wine red · white, wine cocktail
·Soft drink
· Oolong tea, green tea, cola, ginger ale, orange juice, grapefruit juice, tomato juice, coffee (H · I) ice tea
2018/10/20 update